Mac OS
1.83GHz Intel Core ™ Duo or faster processor

Linux
Ubuntu 10.04, 11.04 or latest; Red Hat Enterprise Linux 6 1.4GHz Intel® Pentium® 4 or faster processor

Mobile/Tablets
An updated version of the operating system available for your device is recommended and below are the minimum requirement
Apple devices:
iOS 10 and above
Andriod devices :
8.0 and above
Browser Requirements
Desktop/Laptop:
An updated version of
Google Chrome
, Mozilla Firefox, and Safari. We recommend using Google Chrome
NOTE:
You can use Safari on Mac OS X, but you will
not
be able to access the screen sharing feature.
Mobile/Tablets :
An updated version of OS,Safari for IOS devices and google chrome for andriod.
NOTE :
Mobile use is recommended for students only, Tablets can be used by teachers with limited features.
Ports & IP's which need to be open
We recommend opening all mentioned ports, IP's as well as whitelist domains for the best experience in restricted or closed networks such as universities, schools, offices. You may go ahead and share the below details with your organization's IT Team.
Open TCP and UDP port 443, 80, 3478, 3480 and

UDP ports 1025 - 65535

for inbound and outbound traffic to the following IPs.
20.163.178.12

75.126.252.103

75.126.252.101
40.76.61.116
40.76.63.133
40.121.161.152

40.121.162.18
40.114.80.120

13.68.181.237
13.82.131.101

13.82.131.244
40.87.126.227

104.41.133.86
104.211.13.140

168.61.46.101
13.68.136.91

23.96.8.147
75.126.252.101

75.126.252.102
75.126.252.103

75.126.252.107
75.126.252.109

Mandatory - add below in whitelist for HTTPS and web socket requests.

Scantron Pre/Post Testing requirements :
Pop-up blockers need to be disabled
Internet Speed Requirements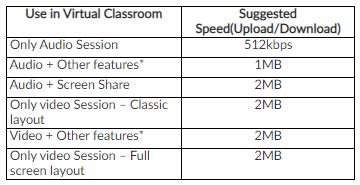 *Other features include live chat, whiteboard, content sharing (ppt, doc etc).
Mbps = Megabytes per second
Speed calculation: Speed test result you will get on any speedtest site is in megabits per second. To calculate the actual speed in Megabytes divide the speeds by 8
Sites for speed test : www.speedtest.net or Fast.com
Eg . My speed test result is 8 mbps download and 4 mbps upload. This result is megabits per second. My result is megabytes for download will come 8/8 = 1 megabyte and for upload 4/8 = 0.5 megabyte